What Does "Pre-Owned Promise" Mean?

It's easy to understand what a new car and what a used car is—the differences are obvious. But what does Allen Samuels Direct Pre-Owned Promise mean? You may not have realized this, but many of the vehicles at Allen Samuels Direct come with a certification, so while our cars, trucks, and SUVs have had previous owners, they are of a trusted quality and condition than your average used vehicle being sold in Grapevine. Plus, they often have many of the same modern features of new vehicles, but at a lower price. In short: vehicles with the Pre-Owned Promise provide the best of both worlds.
Allen Samuels: Used Cars You Can Depend On
Our "pre-owned promise" isn't a meaningless word thrown around. We carefully check each vehicle we put on the lot to ensure that it meets our safety and quality guidelines, and then stand our vehicle with a 3 month/3,000 mile powertrain warranty and guarantee that if you don't love your vehicle, we'll make it right!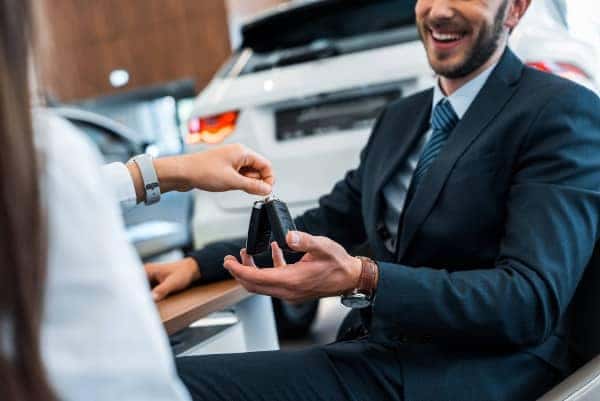 Allen Samuels Direct 30 Day Pre-Owned Promise
The 30-Day Pre-Owned Promise is the Allen Samuels Direct commitment to customers that we offer quality pre-owned vehicles that we will stand behind. If you buy a pre-owned vehicle and are not happy with it within the first 30 days or 1000 miles (whichever comes first), you can bring it back to the same Allen Samuels dealership and trade it even for another model of equal selling price, or as a down payment for a more expensive vehicle.
Test Drive a Reliable Used Car at Allen Samuels Direct
Why pay full price for a brand-new vehicle when you can purchase a pre-owned one for a lower price and the same peace of mind? Whether you're looking for a family-focused SUV or a sporty coupe, you'll find your dream vehicle in the vast inventory at Allen Samuels Direct. We're happy to assist you in any way you want, from advising you on ideal mileage for a used vehicle to gap insurance coverage or offering car care tips after you drive off the lot. Hope to see you soon!