How to Trade in a Car

Trying to sell a vehicle on your own can be more frustrating than sitting in Grapevine traffic! If you're ready to trade up on your next vehicle, follow our guide below to ensure you're selling for a fair price. After that, visit us at Allen Samuels Direct to explore our used vehicle inventory and certified pre-owned specials!
What Steps Should I Take to Trade in a Car?
If you want to ensure you have the best ride in Ft Worth, you need to make sure you're selling your old vehicle properly by following these steps:
Research to find an estimate of your car's trade-in value.
Work with an expert to get an in-person appraisal.
Negotiate and accept a fair offer.
Step 1: Get Your Car's Trade-In Value
Studying the market to determine your car's trade-in value can be made much easier if you know where to look. Online resources like Kelley Blue Book or our trade-in value tool can help you get an estimate of your vehicles value. This is a critical step, as you'll want to have a good idea of what your car is worth before you get an in-person appraisal.
Step 2: Get an Appraisal
Determining an exact car trade in value can be difficult, so there may be some change in your estimated value and the value given by the appraiser. If you're learning how to trade in a car for the first time, this step can be intimidating. You can avoid a large variation between your car trade-in value estimate and the actual appraisal by being honest and thorough during your research.
Step 3: Negotiate or Accept a Trade-In Offer
If you've studied the market and the appraisal given seems low, you can feel empowered to walk away or negotiate. If you decide to accept the car trade-in value offered, you have a few options on how to proceed. Many dealerships will allow you to pocket the cash for your old car or you can use that money on a down payment towards your next vehicle!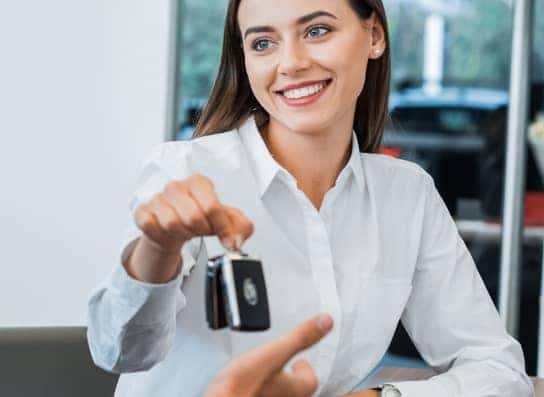 Let Us Take Your Old Car Off Your Hands!
Now that you know how to trade in a car properly, it's time to trade up! Contact us at Allen Samuels Direct to schedule a test drive of a Dodge SRT model (and learn what the SRT means!), or to discuss your options with our finance team. Visit us in Euless if you're ready to put a new vehicle in your Irving garage or learn how to purchase a car-out-of-state so you can take advantage of great deals across state lines! Are you looking to get your hands on a Dodge Charger? Or what the know about the Jeep Wrangler interior or the benefits of buying a BMW? Learn more about the Charger trim levels and BMW models with Allen Samuels Direct!