What Is Good Mileage On A Used Car?

Shopping for a new-to-you used car in the Grapevine area can be nerve-wrecking. You want to trust the source you're buying from, but that's not always easy, leaving many to ask questions like, "What is good mileage on a used car?" When buying a used car, whether a car looks pristine or ancient on the outside, the mileage and maintenance records can dispute what your eyes are seeing. While looking for a new car in the Ft Worth area, consider not just the looks of the vehicle, but condition, location, and usage. Learn more with our Allen Samuels Direct experts in this guide!
The Smart Way to Shop for a Used Car
Good mileage for a car is a positive sign, but there are other factors to consider, too. Ft Worth drivers shouldn't consider buying a used coupe or convertible until they determine the following:
Usage – Whether the car has 50,000 miles or 200,000 miles, that number can change a lot depending on how the car was used. 12,000 miles per year on a car driven in stop and go traffic will wear quicker than 12,000 miles per year on a car that's mostly driven on open highways. Get the previous owner's driving history before you buy!
Location – Vehicles that have been driven in a locale that has a dry, warm climate, undergo less stress than vehicles from areas that have a cold, wet climate. Consider the wear subjected upon a vehicle that's driven on snow-covered and salt-covered roads.
Condition – Get a certified mechanic to inspect the vehicle to determine if there are any issues, such as mechanical problems, rust, or excessive tire wear that will need to be dealt with. Figure this cost into your budget.
Maintenance – Check the maintenance history of the vehicle to ensure that it has been kept up to date on routine services like oil changes. An irregular service history can be a sign of expensive problems in the future.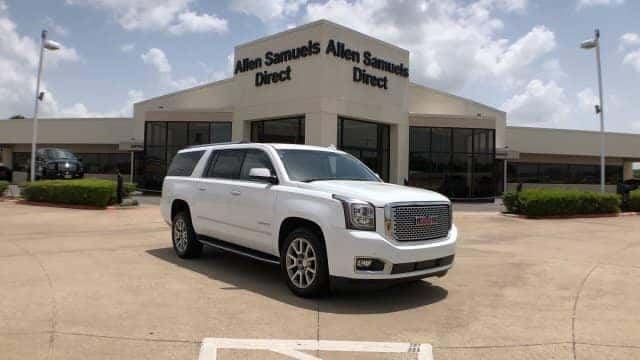 Mileage vs. Age
What's better: a new car with high mileage or an old car with low mileage? The former could very well be preferable over the latter, to be honest. Here's why you might want a newer car even if it has more miles on the odometer:
Mechanical issues, or problems with rubber seals and gaskets, can develop if a car isn't driven on a regular basis. A car that hasn't been driven regularly will often have higher repair costs.
A vehicle with a well-documented maintenance history is preferable to one that has been neglected.
For the budget-hunters, low mileage vehicles often come with a higher price tag.
For those looking for newer vehicles, there are quite a few newer cars for sale within our pre-owned specials stock!
Find Used Cars Near Irving Today
At Allen Samuels Direct, or friendly staff members are trained to help customers understand the differences between our wide array of high-quality used vehicles, newer and older. Whether you're looking for a pristine Cadillac Escalade or powerful Ford Super Duty F-250 truck, stop by or reach out if you have any questions about buying certified pre-owned or used vehicles.
More from Allen Samuels Direct
The Ford F-150 is iconic for a reason: depending on which model year you choose, this powerhouse truck can offer best-in-class towing capacity at a max of 13,200 pounds, in addition to an exciting collection of performance specs that are sure to make this pickup the perfect choice for your Grapevine workload. Used Trucks…

Off-road enthusiasts in Euless know that the Jeep Wrangler was made for the outdoors. Whether you're driving on Grapevine streets or going on an off-roading adventure, the Jeep Wrangler has the power, the capability, and the interior comfort and cargo space to get you there. Learn more about the interior of the Jeep Wrangler with…

If you're looking for a family-friendly vehicle in Euless that also has a distinctive sense of style, the Mitsubishi outlander is the SUV for you! Coming in several trim levels – each with their own unique features – and an impressive suite of Mitsubishi Outlander specs, this versatile SUV has everything you need at…