How Much Does It Cost to Lift a Truck?

If you're a truck enthusiast in the Euless area, you're likely a fan of the unique look and capability of lifted trucks. For those who dive into lift kit and leveling kit options, the range of prices can be overwhelming. So, how much does it cost to lift a truck? Although the only way to know how much a particular lift or leveling kit will cost is to ask a dealership near you in Grapevine, we've written up the general guideline below to help you get started.
The Cost of Lift Kits
How much is it to lift a truck after adding all your must-have elements? That depends on the type of kit you choose. Starting between $100 and $500, leveling and body kits are the most affordable options. If you opt for a performance-enhancing suspension lift kit, you can expect to pay between $1,000 and $5,000. You may be able to find aftermarket options for less, but keep in mind that you'll need to do a lot more research to be sure you're getting a quality product that won't damage your truck or wear out too quickly.
The labor time required to equip your truck with a lift kit is the most important factor determining installation cost. Lift kit installation time can range between 7 hours for basic setups and 15 for extensive modifications. One way to reduce installation costs is to do the installation yourself — but be sure to have all the parts on hand before you begin. Whether you schedule service with our technicians or go the DIY route, it's easy to order genuine OEM parts from our parts center.
Choose Your Setup: Lift Kits vs. Leveling Kits
Lift kits and leveling kits are two of your main options, and the route you choose will impact the cost to lift a truck. Here are a few things to consider before you make a decision:
Leveling Kits –The original purpose of leveling kits was to even out inconsistencies in a truck's suspension, which is useful when you have heavy accessories weighing down one end of your truck. However, they can also be used to lift your truck by one to two inches. This is a great option if you only need a small lift and are looking for a low-cost option.
Lift Kits — Lift kits come in two categories: smaller versions that raise the truck by two to five inches, and larger versions that lift beyond six inches. Lift kits allow for much more extensive changes to your vehicle's exterior and capabilities, but can be significantly more expensive.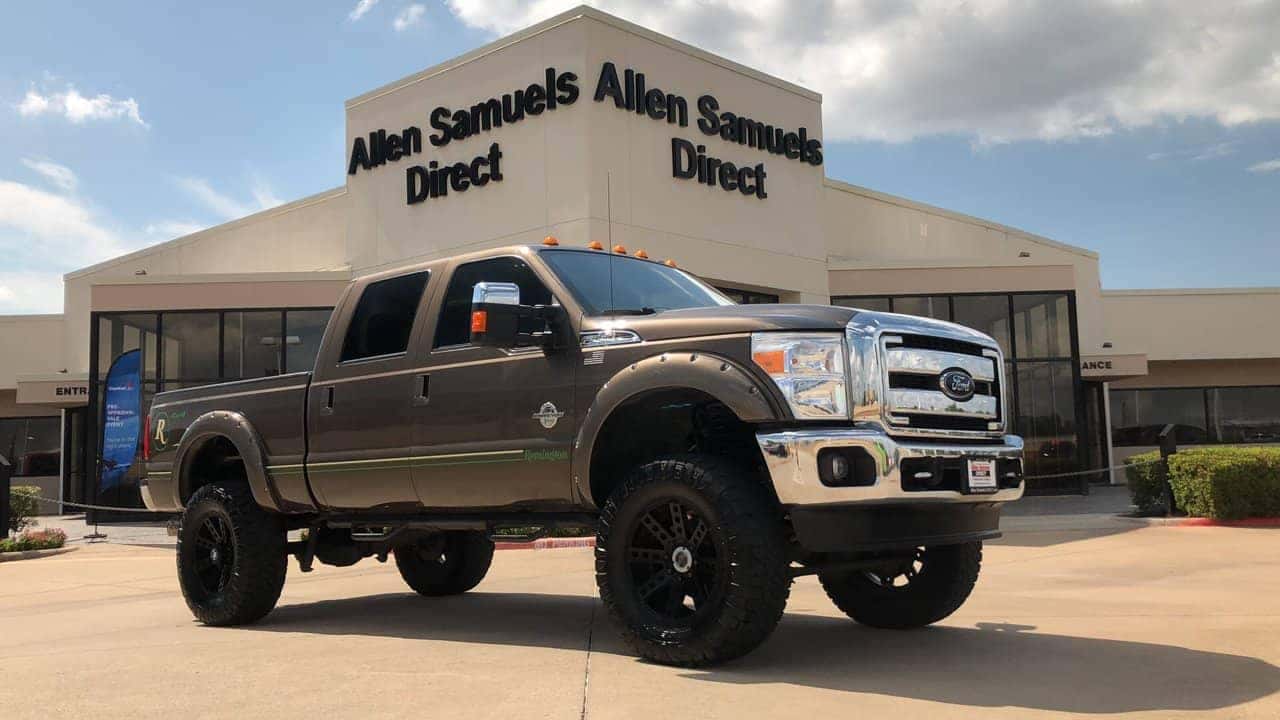 Body Lifts vs. Suspension Lifts
After settling on a lift kit, it's time to choose between a body lift or a suspension lift. The body lift makes room for larger tires without altering the truck body. Suspension lifts often involve significant changes to your vehicle's original equipment. For changes of this magnitude, recommend genuine OEM parts can help preserve the integrity of your vehicle.
Is the Cost of Lifting a Truck Worth It?
You already know lifting your truck will create a unique look that'll grab attention all over Ft Worth. But you're also paying for performance and capability benefits:
Superior ground clearance
Better shock absorbers
Bigger tires with improved traction
Improved your MPG
Superior suspension
Benefits like these can result in less vehicle wear and tear, greater off-road capability, and increased fuel economy. This can translate to lower maintenance costs and higher resale values.
Explore Lift Kits & Truck Accessories with Allen Samuels Direct!
We're proud that Ft Worth and Irving rely on us for quality service and fair prices. If you're ready to take your F-150 or Silverado to a whole new level (literally) get in touch with our service center to learn more about your lift and leveling options! We're also happy to answer routine maintenance questions about uneven tire wear, oil change frequency, and more.