How To Use Paddle Shifters

We get lots of questions from Grapevine and Ft Worth drivers about how to use paddle shifters. We hope to cover most of those questions with the guide below, but if you'd like more detail or clarification on how to use paddle shifters in your particular vehicle, don't hesitate to get in touch!
What Are Paddle Shifters?
You likely know that paddle shifters are a mechanism to change gears in your vehicle, but what do paddle shifters do vs. automatic and stick shifters? You'll typically find paddle shifters in sport performance vehicles, as a feature in a sporty trim level, or included in a performance feature package. Drivers use the paddle on the right side of the wheel for an upshift, and the paddle on the left as a downshift. Moving a paddle sends an electrical signal straight to the clutch, shifting the gear. The result is faster and more consistent shifting than any other type of shift.
Even though paddle shifters are unfamiliar to lots of Irving drivers, the good news is they're simple to use once you know how. Learning to use your paddle shifters is worth the effort because of the extra control you'll get over your RPMs, and downshifting properly can also extend the life of your brake pads.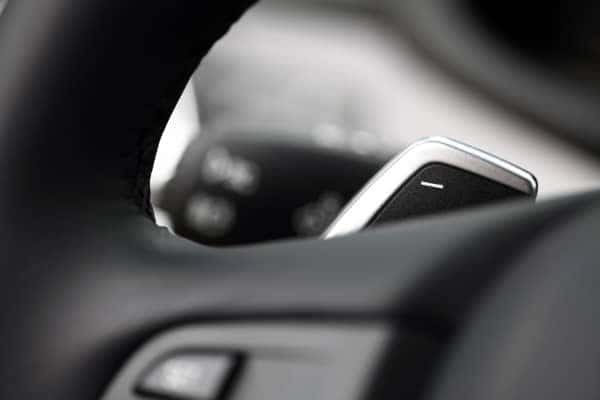 How to Drive with Paddle Shifters
In your vehicle with paddle shifters, enter S mode with your clutch stick. You're now in full control of your vehicle's gear shifts. To move up a gear, tap the paddle to the right of the steering wheel. For a downshift, tap the left-hand paddle. Even though you're in control, you don't have to worry about harming the transmission with an incorrectly executed shift. Your car will not shift gears if:
You attempt to downshift before reaching the upper limit of the lower gear.
You upshift before the engine has reached the lower limit of the higher gear.
You press both paddles at the same time.
You try to shift to third gear or higher while stationary.
You press one paddle while holding the other down.
If you'd like a break from manual shifting, simply enter D mode to let the automatic transmission take over for a while.
Explore More Performance Features with Allen Samuels Direct
We hope this guide helps you feel more comfortable driving with your paddle shifters. If you have car-care questions, give us a call or stop by our Euless service center for car-care tips from our team of knowledgeable technicians. We're happy to provide detailed info on routine service like tire wear and oil changes, or how to know when to replace key parts like your car's battery.