How Many Miles Do Tires Last?

Most new tires supplied by the manufacturer can be expected to last about 50,000 miles. Our handy guide below offers tips on how to get the most out of your tires. Contact us with any maintenance questions or explore our online car care tips. At Allen Samuels Direct we have a wide selection of available vehicles, and our team can give you tips on how to keep your car in top condition for cruising the streets of Grapevine.
What Impacts Tire Life Expectancy?
The answer when asking, "how many miles do tires last" and "how many miles should tires last," may be different depending on how your vehicle is maintained and can vary based on a number of factors:
Tire Type: High performance tires tend to wear quicker than all-season tires due to more rolling resistance.
Treadwear Rating: Tires come equipped with a treadwear rating to indicate how many miles your tires should last.
Drivetrain: Tires wear differently depending on if they're on a front-wheel drive, rear-wheel drive, or all-wheel drive vehicle, because of differences in where the power is sent.
Driving Conditions: Taking vehicles off-roading or regularly traversing gravel roads can diminish how long tires will last. Additionally, snow, salt, rain, and ice can inhibit your tires life expectancy.
Terrain: Areas with more hills or inclines will create more friction on tires as opposed to routinely stopping on flat surfaces.
Your Driving Habits: Having a lead foot or not properly inflating your tires can lead to uneven tire wear. Letting off the gas and allowing your car to coast to a stop can prevent this type of tire damage.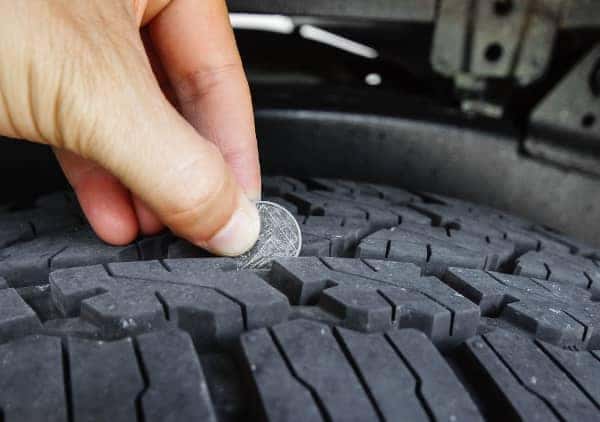 Tips for Getting Most Mileage Out of Your Tires
Along with adopting more cautious driving habits, drivers in Ft Worth can extend the life of their tires by doing the following:
Inspect for proper air pressure when stopping for gas or snacks. Many gas stations have tire inflation stations.
Inspect your tire tread depth for tire tread wear regularly.
Have your tires rotated routinely for more even distribution of tire wear.
Consult a technician to ensure your vehicle is up to date with all regularly scheduled maintenance.
Visit Us in Euless to Take Care of Your Tires
Don't let your next Irving adventure get ruined due to a flat or damaged tire! Contact us to learn more about maintaining your tires, or to talk to our financing team about your next vehicle purchase!